The CATRA company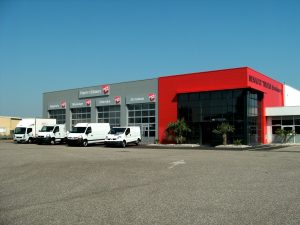 "Camions et Tracteurs" (Trucks and Tractors), now renamed CATRA, is a company established over 50 years ago in the French region of Alsace.
We are established in four different locations around Alsace : Mulhouse-Rixheim (13000 m² of which 3800 m² covered) and Colmar (12000 m² of which 2800 m² covered), and since 2016 : Fegersheim  (35000 m² of which 4500 m² covered) and Brumath (8000 m² of which 1000 m² covered). Thanks to our geographical coverage, we are able to come at any location all through Alsace in less than half an hour.
We aim to satisfy our customers with a high-quality, responsive and competitive customer service
Our different teams, comprising of over 130 people, are at work night and day to achieve this goal such as, for example, during the 100000 hours of mechanical and body works we do every year in our workshops.
CATRA is ISO 9002 certified since 1997.
Our 5 business lines are the vehicle sales, the spare parts sales, maintenance and repair, body repair works and the utility and commercial vehicles rental .
Opening hours:
Monday to Friday : 07:30 AM to 12:00 PM – 01:30 PM to 06:00 PM
Saturday : 08:00 AM to 12:00 PM (Fegersheim,  Brumath and Colmar, Rixheim).